Spring Event: 21st April 2024 – open
Autumn Event: 1st September 2024 – open
Southam School/ Leisure Centre, Welsh Road West, Southam, Warwickshire. CV47 0JW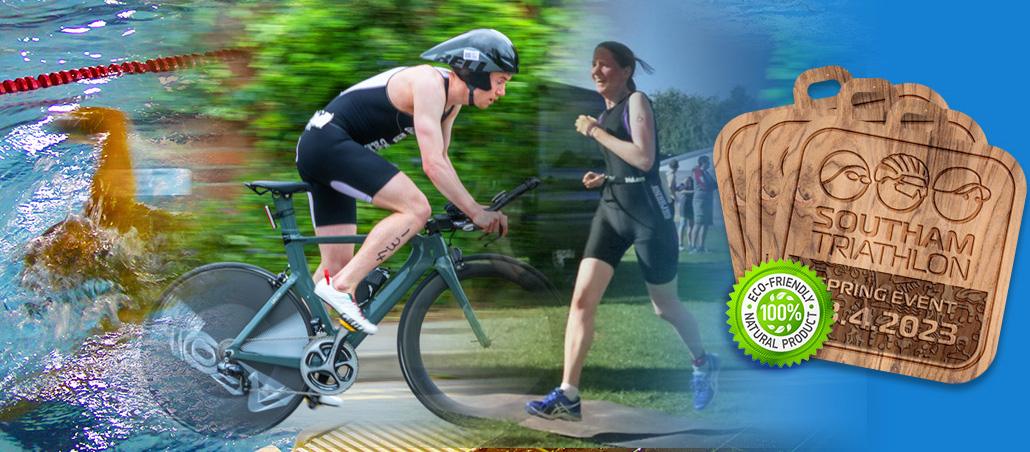 We put on a Sprint Triathlon for all ages, getting the locals involved along with the keen Triathletes from around the area is our goal. We have a well-established Jnr Triathlon to offer – visit page for details.
The adults cycle route has been been kept from the 2022 event has been kept the same this year due to ongoing works with HS2 – please take a look! – no Ufton hill (boo I hear you cry!) :). The cycle route is still 90% left turns with the exception of the roundabout leaving and entering Southam – be sure to download the GPX, TCX files provided.
There are major works underway at the school so please take note of the new run route (same as previously if you did that).  I shall update you at the briefing as to any issues that you need to be made aware of.
Finally – I have secured the dates for the coming year – my apologies for the length of time it has taken, but we are good for another year – please tell everyone we are open for bookings 🙂
Again – we are going fully eco-friendly with the trophies and medals this year – a bespoke design as illustrated, produced locally with the assistance of a local company who produce a variety of gifts – check out Saddlestone's website.
They will be made from sustainable wood, the medals supplied with a leather cord too. They look great!!
Awards for the Adult Triathlon categories…
Veteran Male/Female 40-59
Awards for the Junior Triathlon categories…
Southam Leisure Centre has a wide range of public swimming sessions for you to get your swim training moving. Please see the link to the pool programme below or give them a call on 01926 817788 to discuss your needs.

Southam Triathlon
3 months ago
Please like our FaceBook page where we keep you up-to-date with the latest goings on 🙂